Pasley Park Landscape Design
Our expertise covers landscape design from city courtyards through to organically based farms and lifestyle blocks with 2D & 3D walk through plan formats.
A new challenge is always welcome!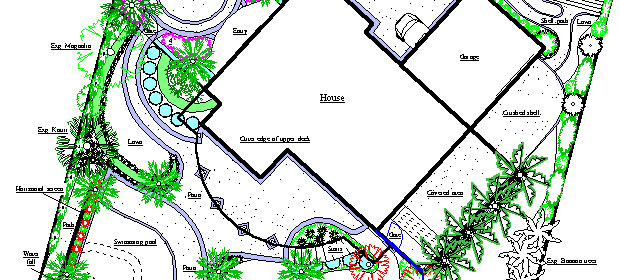 Landscape design provides a clear approach towards a final goal. Construction stages can be quantified and the materials listed to make the project easy to cost. Budgets can be set and monitored.
The general approach to landscape design is one of creating balance between providing exactly what you envisage your garden to be and complimenting the existing surroundings such as the house and geographical features. The goal is always to enhance your living environment and improve the value of your investment.
Our landscape design process generally involves an initial on-site meeting with you to discuss the scope of the work you require, as well as your vision, likes and dislikes. Following this first meeting you will be advised of the costs involved for the sketches, concept & planting plans that make up the overall landscape design for your property. Once you decide the design process that will best work for you, we will again visit the property to take detailed photographs, site measurements and notes before starting work on the agreed design process.
Our landscape designs cover various forms including sketches, concept plans and planting plans.
Sketches provide an initial illustration of a particular outcome. A variety of sketches can help you to choose the best direction to take in the design process for your project.
Concept plans illustrate the structure or the 'hard side' of the landscape design. This includes scaled drawings of contours; lawn, patio, path & garden areas; swimming pool & water features; wood, stone, concrete & paving inclusions; construction notes & materials; drainage solutions, lighting & irrigation solutions amongst others.
Planting plans show a scaled depiction of the plants selected for the garden, the 'soft side' to the landscape design. All plants are illustrated in-situ at a mature age, numbered with reference to the attached notes which list names, descriptions and the numbers required.
3D Walk through stills and movies make every aspect of the design come to life. View the garden from any angle, in any season, confirm the effects of garden lighting, water features and other areas of interest before putting a spade in the ground.